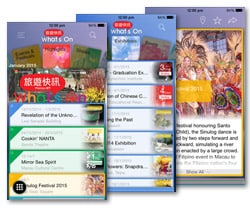 This app introduces Macao's latest tourist attractions and monthly highlights from local events, activities, festivals, performances to exhibitions. Once downloaded, you may check out Macao's splendid events offline through its colorful and handy interfaces.
The content is available in three languages - English, Traditional and Simplified Chinese.
Special features:
Handy design with easy operation.
Information can be viewed offline once downloaded.
Reminder about the start and end of the event.
You may add your favorite events to "My Events" or your Calendar for easier trip planning and participation.
Automatically search for any nearby activities around your location as in line with the GPS function.